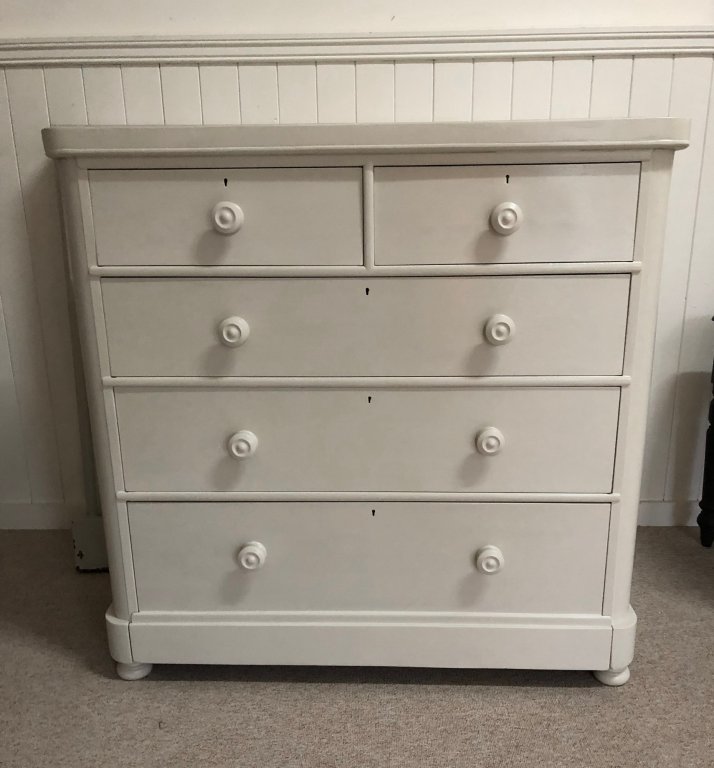 Victorian Hand Painted Chest Of Drawers
£

650.00
Another superb example of a classical Victorian Chest of Drawers. Beautiful proportions and beautifully restored and hand painted by our own craftsmen. Can you spot the oddity??? It took me ages to see it .............. look at the top two drawers - I think the apprentice who made this got into serious trouble and probably had his wages docked. I love it even more for this very reason.
Ref:
PB533
Category:
Chests of Drawers & Sideboards
Size (H x W x D):
120.00cm x 121.00cm x 53.00cm
Age:
new
Colour:
Shaded White
Location:
Pepperbox Interiors @ West Grinstead RH13 8LY
Enquire
HOW TO PURCHASE
The easiest way to express interest in any of our hand-painted furniture or decorative accessories is to call us at our shop in Cuckfield 01444 441200 or West Grinstead 01403 864110, quoting the products Ref no. Alternatively you can either click the enquiry button located on each items page to simply use the contact form in the bottom of every page to send us a message.
DELIVERY SERVICE
We can deliver our furniture and accessories to anywhere within the UK but we are more than happy for you to organise your own delivery of larger items.
"
Art is not what you see but what you make others see
"
Edgar Degas