Upholstered Furniture
At Pepperbox we are extremely lucky to work with a wonderful upholsterer who manages to fit our own pieces and customer commissions in between his own contracted work. Beautiful nursing chairs, French salon chairs, footstools, dining chairs, sofas and armchairs all upholstered in a glorious range of plain or patterned fabrics and linens from British designers Kate Forman Designs, Peony & Sage, Sarah Hardaker along with other famous brands.
We are also pleased to now be working with an amazing company who can make us sofas, armchairs and footstools. All of which can be made to your specific measurements, we currently have just one style in stock as space limits us so please don't hesitate to ask for more information.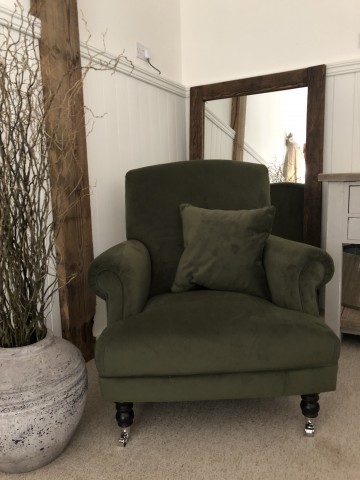 HOW TO PURCHASE
The easiest way to express interest in any of our hand-painted furniture or decorative accessories is to call us at our shop in Cuckfield 01444 441200 or West Grinstead 01403 864110, quoting the products Ref no. Alternatively you can either click the enquiry button located on each items page to simply use the contact form in the bottom of every page to send us a message.
DELIVERY SERVICE
We can deliver our furniture and accessories to anywhere within the UK but we are more than happy for you to organise your own delivery of larger items.
"
Style - all who have it share one thing: originality
"
Diana Vreeland