A message about us!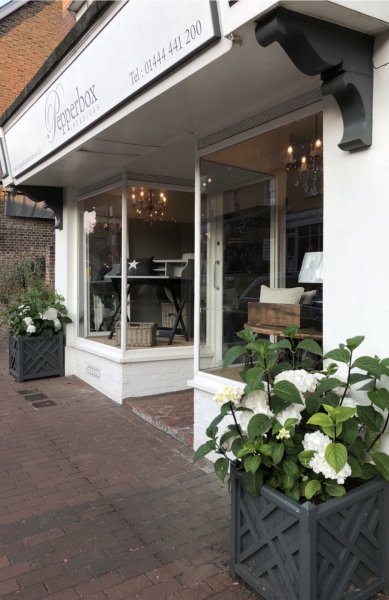 A NOTE FROM SARAH – 3RD NOVEMBER 2020
THE WHOLE ETHOS OF PEPPERBOX HAS ALWAYS BEEN TO OFFER OUR CUSTOMERS A PERSONAL SERVICE AND TO MAKE THEIR VISIT TO OUR LITTLE HIGH STREET SHOP A PLEASURABLE EXPERIENCE.
I HAVE ALWAYS BEEN A HUGE FAN OF THE HIGH STREET AND I HAVE THEREFORE BEEN RELUCTANT TO JOIN THE MASSES BY SELLING ONLINE INSTEAD CHOSING TO OFFER A TRADITIONAL SHOPPING EXPERIENCE.
WE RETAIL A SELECTION OF PRODUCTS AND IN ORDER TO CREATE AN EVER-CHANGING AND INTERESTING SHOP FLOOR, WE ONLY ORDER SMALL QUANTITIES OF NEW PRODUCTS. WE ALSO STOCK UNIQUE RENOVATED PIECES OF FURNITURE, WE SHOWCASE PRODUCTS FROM A NUMBER OF LOCAL ARTISANS AND WE OFFER A BESPOKE SERVICE ON A RANGE OF FURNITURE, SAMPLES OF WHICH ARE AVAILABLE TO VIEW.
OUR WEBSITE IS NOT E-COMMERCE BASED AS WE JUST DO NOT HAVE THE FACILITIES OR STOCK LEVEL TO RUN AN EFFICIENT SERVICE.
IF YOU ARE INTERESTED IN ANY PRODUCT (LISTED UNDER THE SHOP OPTION ON MAIN MENU) PLEASE CLICK THE ENQUIRE BUTTON ON EACH PRODUCT WHICH WILL GENERATE AN EMAIL ENQUIRY. YOU CAN USE THIS METHOD TO ORDER A PRODUCT. SOMEONE WILL REPLY TO YOUR ENQUIRY ANSWERING ANY QUERIES AND DISCUSS PAYMENT AND DELIVERY OPTIONS WITH YOU.
IN THE CURRENT CLIMATE WE ARE MORE THAN HAPPY TO OFFER LOCAL DELIVERIES OR A COLLECTION FROM THE SHOP, ADHERING TO GOVERNMENT SAFETY GUIDELINES AT ALL TIMES.
I HOPE EVERYONE IS SAFE AND WELL AND SEND YOU LOVE AND POSITIVITY GOING FORWARD.
Sarah xx
Posted by Sarah
HOW TO PURCHASE
The easiest way to express interest in any of our hand-painted furniture or decorative accessories is to call us at our shop in Cuckfield 01444 441200 or West Grinstead 01403 864110, quoting the products Ref no. Alternatively you can either click the enquiry button located on each items page to simply use the contact form in the bottom of every page to send us a message.
DELIVERY SERVICE
We can deliver our furniture and accessories to anywhere within the UK but we are more than happy for you to organise your own delivery of larger items.
"
Beautiful homes beautiful interiors
"